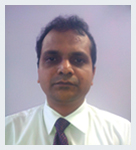 C.A. RAJESH SHAH
Rajesh Shah is a fellow member of the Institute of Chartered Accountants of India having experience of 20 years in Profession. He is having expertise and hands on experience with various large corporates in Project Advisory Services including Financial consulting, Financial Structuring and Debt Syndication (onshore and offshore) services. He has a successful track record in debt restructuring with Banks & FIs, Debt Syndication, and Corporate Advisory. He is having problem solving approach and guided many mid-cap companies for their fund raising plan.
He is well versed with portfolio inverstment and wealth management advisory services in equity, mutual fund, real esate and family protection.
He is also having expertise in finance arrangement and structuring of Real Estate Projects including legal consulting with the perspective of both Real Estate Developers and the Investors thereof.
Vision and Mission
Vision: "To be the Company of choice that best understands financial products, services and financial needs of business community."
Mission: "At AURIGA, we are passionately committed to provide quality services to our clients with professional integrity and transparency to make a difference in their business."